Our online store is powered by Paypal, so you can buy with confidence. Even if you do not have a Paypal account, you can still pay with a credit card, processed by Paypal, without creating an account.
Below is a list of the products we sell.  Clicking on any link or picture will take you directly to the product page where you can then add item(s) to your paypal shopping cart.
Free Shipping on all items to the Lower 48 United States! $10 shipping to Canada + $1 per pound. $5 shipping to Hawaii and Alaska plus $1 per pound. International buyers please contact us for a shipping quote.
Vulcan 310 Copper & Steel Build-up alloy


Vulcan 320 Cast Iron & Steel Brazing Alloy

Vulcan G-51 Aluminum Brazing Kit

Vulcan NastyCast Cast Iron Repair Electrodes

Vulcan 700-GR Gouging Rods

Vulcan 4400-AS All-Steel Repair Electrodes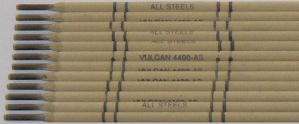 Vulcan 400-CG Tool Steel Joining and Underlayment Electrodes

Vulcan 910-AH Air-Harden Tool Steel Electrodes

Vulcan T-4400-CG Tool Steel Joining and Underlayment Tig Wire

Vulcan T-9900-TS Air-Harden Tool Steel Tig Wire

Vulcan OMC-260-HF Hardfacing Mig Wire